Forretningsudvikling - broen mellem nutiden og fremtiden
Af JESPER SALLING Quo Vadis Forretningsudvikling ApS
Fra BYGGERIET juni 2014 - Side 30
Udviklingen kommer aldrig til at gå langsommere end nu, siger man i dag. Mads Øvlisen, tidligere adm. direktør i Novo Nordisk har sagt, at "virksomhedens evne til at forandre forretningen hurtigere end konkurrenterne, er den eneste varige konkurrencefordel, nogen virksomhed har".
Konklusionen er, at hvis du med din virksomhed skal have succes i fremtiden, så er du nødt til hele tiden at bevare overblikket og forholde dig til den udvikling, der er på markedet:
kunderne får nye behov, fordi deres verden forandrer sig, og deres kunder stiller nye krav
konkurrenterne udvikler sig, for de vil også gerne tiltrække og fastholde rentable kunder
den økonomiske udvikling skaber nye betingelser for virksomheden og dens kunder
den teknologiske udvikling giver muligheder og trusler, hvis du er for langsom til at gribe mulighederne
lovgivningen forandrer sig hele tiden og påvirker kunder, marked og rammebetingelser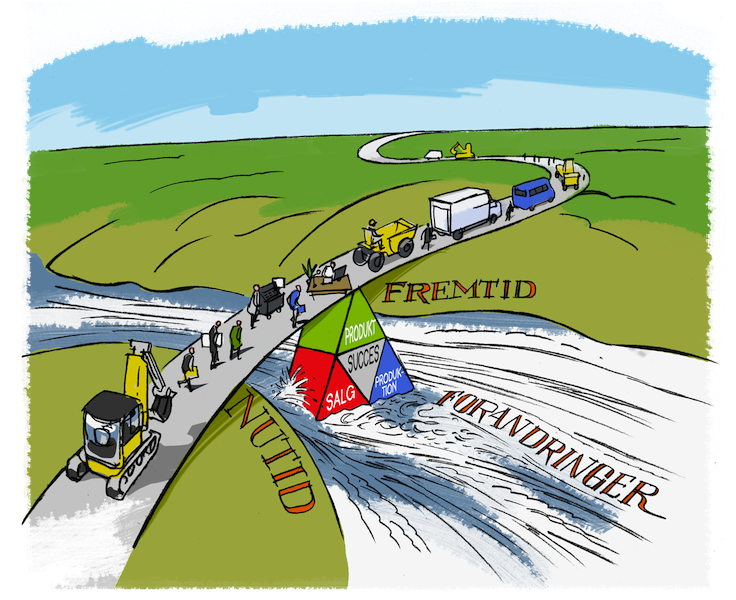 På den baggrund skal du beslutte, om og hvad der skal justeres i din forretningsmodel for at sikre, at din virksomhed forbliver attraktiv og konkurrencedygtig.
Udfordringen for mange virksomheder - især de mindre og mellemstore – er at arbejde systematisk og vedholdende med forretningsudvikling, fordi der hele tiden er en hverdag, der presser sig på her og nu.
På den anden side viser erfaringerne, at de virksomheder, som arbejder struktureret med forretningsudvikling, har mere succes og kommer bedre og hurtigere videre efter store forandringer i marked og omgivelser.
Brug 3.45 % af din arbejdstid på forretningsudvikling og få succes
Quo Vadis har udviklet et strategiværktøj, der fortæller, hvad du skal holde øje med løbende for at bevare overblikket over, hvad der sker i verden omkring din virksomhed. Dermed er du rustet til at tage bedre beslutninger om udvikling af virksomheden og din forretningsmodel, og dermed bygger du bro til fremtiden.
Værktøjet sikrer et konstant fokus på den langsigtede udvikling og dermed på, at du bruger tiden på fremadrettet forretningsudvikling i stedet for "brandslukning". Værktøjet giver også overblik ind-adtil i virksomheden; hvor effektive er vi – hvad er vi gode til og hvad skal vi blive bedre til?
Du kan gratis hente værktøjet + brugervejledning her: Bestil PDF
Hvis du følger vejledningen til værktøjet bruger du 3,45 % af din tid på forretningsudvikling. Fem minutter dagligt, et par timers møde en gang om måneden samt to dage til en årlig strategiwork-shop. Sammenlagt giver det 3,45 % af din årlige arbejdstid, og det er den tid, du årligt bør bruge på strategiarbejde og forretningsudvikling for at få succes med det.